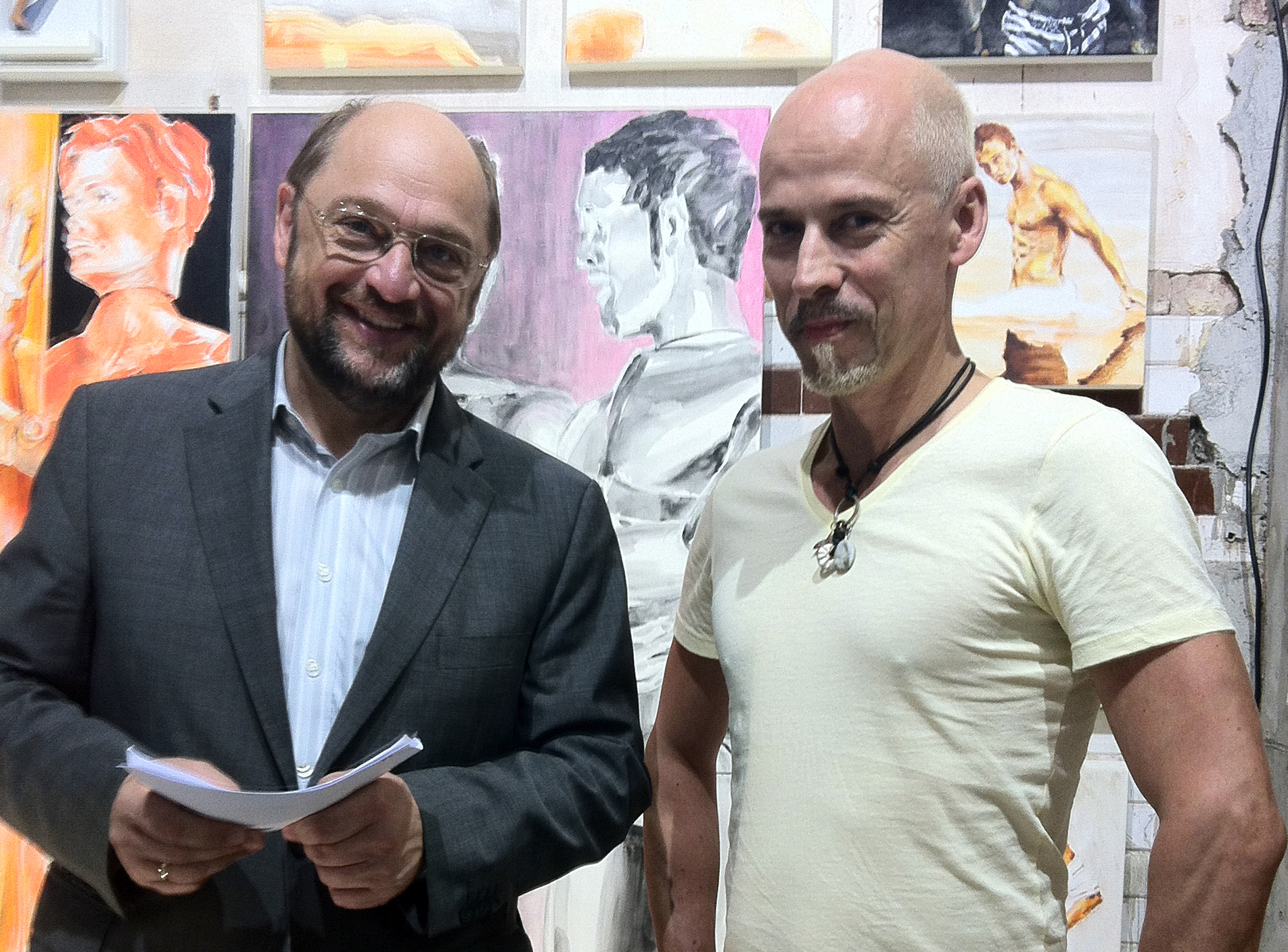 "25 - 30 – 60" ... Jubiläen rund um KulturForumEuropa 

Christian Bauer leitet seit 25 Jahren die Akademie für Kunst+Design



Foto: PPS - Auch der Präsident des Europäischen Parlaments, Martin Schulz, war während seiner Amtszeit zu Besuch bei Akademie-Chef Christian Bauer
Mit Zuzug des KulturForumEuropa (KFE) im Jahr 1995 in die Gemeinde Vettweiß bereitete Künstler und Publizist Christian E. Bauer die Akademie für Kunst + Design vor, die im Spätsommer 1996 an den Start ging. Nach diversen Unterrichtsorten in Schulen und auch dem Haus der Stadt Düren verlagerte die Akademie ihren endgültigen Standort in das Haus Jakobholz Nr. 10 in Jakobwüllesheim, in dem auch die Verwaltung des Kulturforum ihren Sitz hat.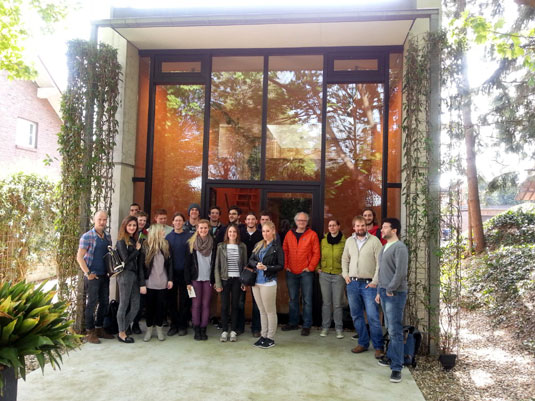 Designer Bauer erweiterte seine Tätigkeit, die bis dahin vor allem auf Gestaltung von Kunst und Publikationen fokussiert war, in das angeschlossene Atelierhaus, welches er zusammen mit Architekt Prof. Dr. Meisenheimer 2001 fertig stellte. 

"Ein kleines Gebäude zu planen, erstellen und organisieren kostet Zeit, Geld und sehr viel Liebe," begrüßte Christian Bauer Gäste der Alanus Hochschule. Prof. Benedikt Stahl, Fachbereichsleiter Architektur mit den Lehrgebieten Architektur und Stadtraum in Alfter, besuchte mit seinen Studenten das KFE-Atelierhaus.


Zahlreiche Schülerinnen und Schüler besuchten seit 25 Jahren die Akademie-Kurse, u.a. um Aufnahmeprüfungen zu Kunsthochschulen und Modeakademien vorzubereiten oder auf diverse Fachhochschulen für z.B. Architektur zu wechseln. Eine Anzahl von Student:innen der frühen Jahre kamen aus Vettweiß, Nideggen, Kreuzau, Langerwehe, Düren und Jülich. 


In diesem Jahr vollendete Akademie-Chef Christian Bauer sein 60. Lebensjahr und unterrichtet gerne noch an zwei Tagen seine beiden "Lieblingskurse" neben künstlerischen Aufträgen im In- und Ausland. 
Er schuf zahlreiche Groß-Porträts und abstrakte Werke, die nicht nur in Deutschland ihre Liebhaber gefunden haben. Aufträge erhielt er bis hin nach Bangkok, wohin er zum BACC (Bangkok Art and Culture Centre), dem größten Hub für zeitgenössische Kunst in Südost Asien, eine intensive Beziehung unterhält. 


In der Region fiel die Akademie durch ungewöhnliche Ausstellungsorte nicht nur in Banken auf, Baumärkte und Autohäuser gehörten ebenfalls dazu. Mit ausgefallenen künstlerischen Aktionen schufen die Schüler Begegnungen auch im und um das Atelierhaus in Jakobwüllesheim "Gespräche über die Wäscheleine, looking around, grenzenlos", u.v.m. 


All das und noch viel mehr gibt es auf der neuen Homepage (www.kfe.de) des KulturForumEuropa unter der Rubrik Akademie zu durchstöbern. Dieser Internet-Auftritt soll zum 30. Geburtstag des KFE in 2022 fertig gestellt sein.  






"25 - 30 - 60"... Anniversaries around KulturForumEuropa
Christian Bauer has headed the Academy for Art + Design for 25 years
Photo: PPS - The President of the European Parliament, Martin Schulz, during his term of office also visited academy director Christian Bauer
When KulturForumEuropa (KFE) moved to the municipality of Vettweiß in 1995, artist and publicist Christian E. Bauer prepared the Academy for Art + Design, which was launched in late summer 1996. After various teaching locations in schools and also in the house of the city of Düren, the academy moved its final location to house Jakobholz No. 10 in Jakobwüllesheim, where the administration of the Kulturforum is also based.
Designer Bauer expanded his activities, which until then had mainly focused on the design of art and publications, into the adjoining studio house, which he and architect Prof. Dr. Meisenheimer completed it in 2001.
"Planning, constructing and organizing a small building costs time, money and a lot of love," said Christian Bauer, welcoming guests from the Alanus University. Prof. Benedikt Stahl, head of the architecture department with the subjects architecture and urban space in Alfter, visited the KFE atelier house with his students.
Numerous students have attended the academy courses for 25 years, e.g. to prepare for entrance exams to art and fashion academies or to switch to various universities of applied sciences, e.g. for architecture. A number of students from the early years came from Vettweiß, Nideggen, Kreuzau, Langerwehe, Düren and Jülich.
This year, academy head Christian Bauer turned 60 and likes to teach his two "favorite courses" for two days a week in addition to artistic assignments at home and abroad.
He created numerous private portraits and abstract works that have found their fans not only in Germany. He received commissions all the way to Bangkok, where he maintains an intensive relationship with the BACC (Bangkok Art and Culture Center), the largest hub for contemporary art in Southeast Asia.
In the region, the academy not only attracted attention because of its unusual exhibition locations in banks, hardware stores and car dealerships were also part of it. With unusual artistic activities, the pupils created encounters in and around the studio house in Jakobwüllesheim.
All this and much more can be browsed on the new homepage (www.kfe.de) of the KulturForumEuropa under the heading Academy. This website should be completed on the 30th birthday of the KFE in 2022.
Back