146 KM between Restless Normality and War

33rd Theatre Festival in Piatra Neamț, Romania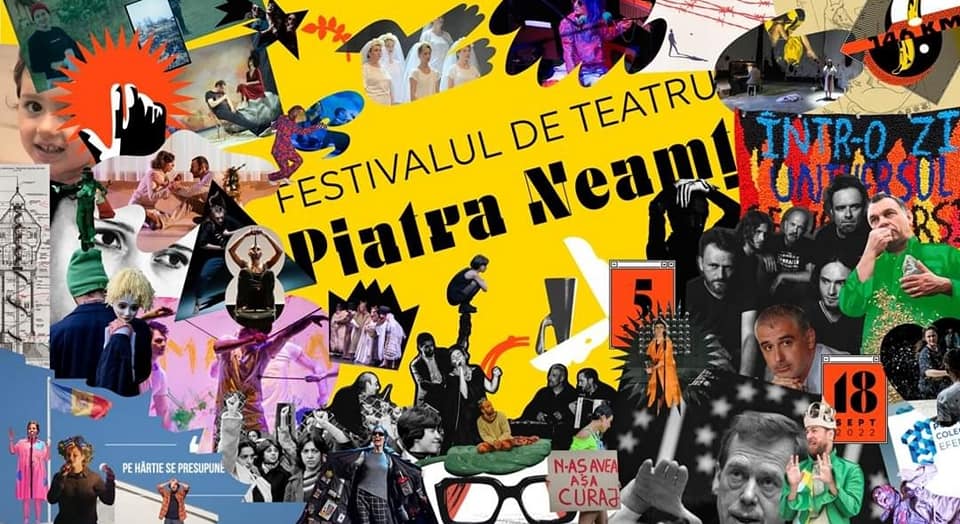 In the 33rd edition of the theatre festival, the Piatra Neamț Theatre of Youth once again succeeded in balancing theatre as an instrument of cultural and social education with reference to socio-political topicality and entertainment for everyone at an appropriate level. (Interventions by Dieter Topp)

The all-pervasive and all-dominant theme of the cruel and contemptuous Russian invasion of Ukraine and the human tragedies associated with it did not, of course, stop at European and international theatre festivals, especially not in Romania.

Accordingly, "146 KM" was the title of this year's festival of the theatre in Piatra Neamț, a town in the north of Romania in Western Moldavia.

"146 KM" is the distance between the theatre and the customs post of Siret on the border between Romania and Ukraine.
146 KM separate two realities: that of an uneasy normality and that of a war marked by unacceptable acts of violence.  
And just next door is the Republic of Moldova, dominated by the Romanian inhabitants' fear of an illegal Russian takeover.
146 KM can mean a comfortable or a disturbing distance, a proximity that generates fear or solidarity. Ultimately, the feeling of closeness depends on how you mentally adjust to a situation that is out of control," says Gianina Cărbunariu, artistic director and responsible for the theatre festival. 

From 5 to 18 September, the 33rd edition of the Piatra Neamț Theatre Festival presented productions from Romania, Ukraine, Moldova, Estonia, Latvia, Hungary, France and Germany and welcomed guests from all over Europe. Different artistic visions whose common denominator was a critical spirit and the desire to find meaning together in a world that seems increasingly incomprehensible. "We want this moment to be a moment of reflection on the global context in which we move, a moment of dialogue between artists and local audiences, a moment of debate between performing arts professionals," Cărbunariu continued.





From the very first moment, 146 KM revealed itself as a blueprint for the series of events, unlike the numerous other festivals in the country that revolve around themselves.


The exhibition "HERE. NOW To be framed" presented the works of young Ukrainians created under the direction of artist Ciprian Istrate as part of a painting camp. Since the beginning of the war, the city has housed war refugees, mostly women and children, who stay in the supposedly safe Western Moldova, move on to relatives in other European countries or whose extreme desire draws them back to provide assistance in their home country.

Skin Deep - Our Children
Staged reading of two plays by Natalia Blok an internationally acclaimed playwright, screenwriter and director and one of the strongest voices in contemporary Ukrainian culture.
Both of Natalia Blok's plays vividly portrayed the conditions, attitudes and actions of a female character who, trapped primarily in the role of mother, tried to overcome the traumas of war together with her children. In Skin Deep, the war evolved into a virus that had infected everyday life and the body alike and begged for the solution to cure such a pandemic.
Natalia Blok's work has been translated into Polish, Georgian, German and Russian. She is the founder of the Drama Theatre in Kiev and a multiple winner of the pitching competition of the State Film Agency of Ukraine.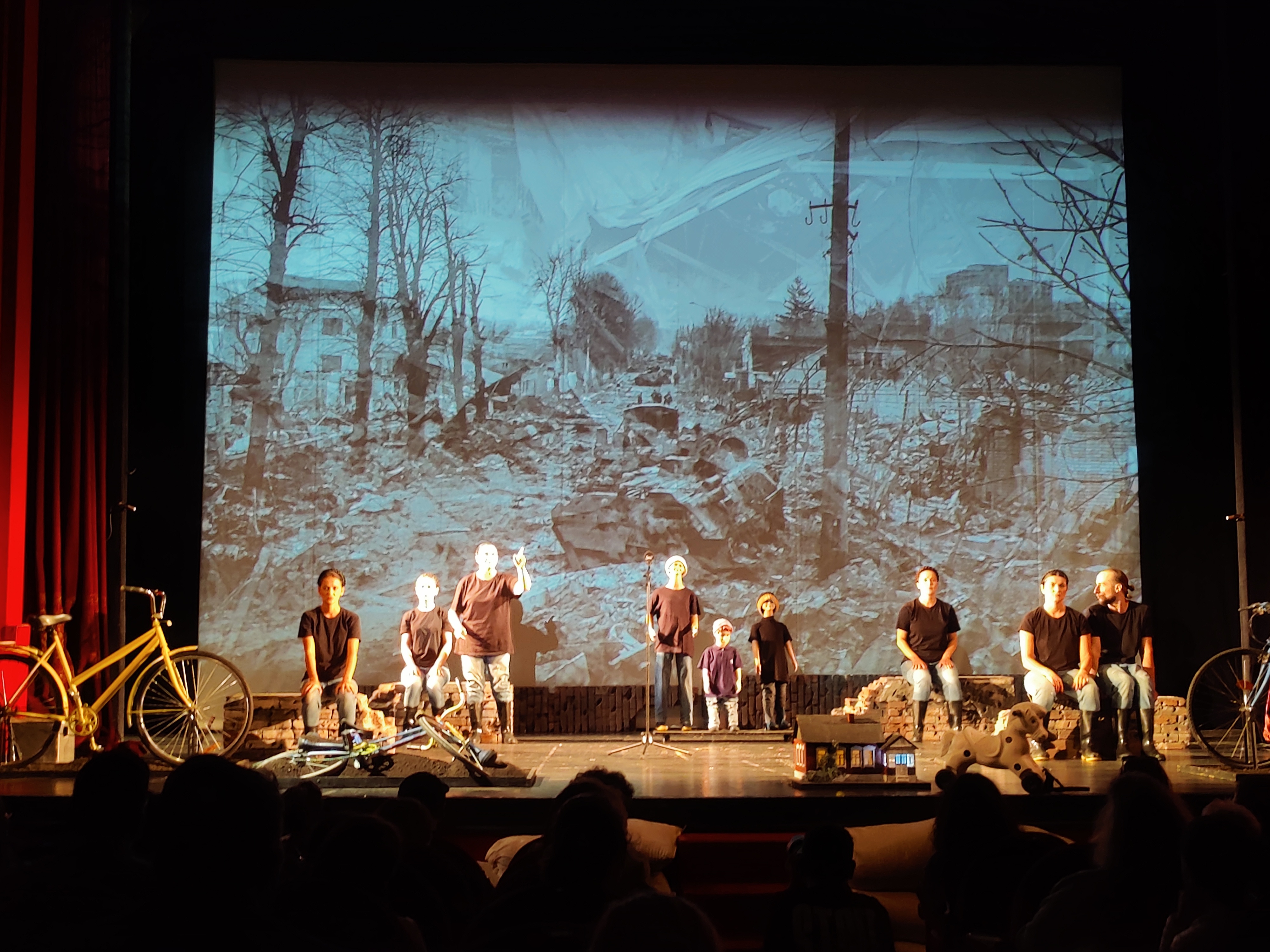 How the events of the war involve residents in the Republic of Moldova even more emotionally - which is why I would like to deliberately avoid the term patheticly - was shown by the theatre "Alexei Mateevici" from Chișinău, with "Let's call a spade a spade" directed by Luminița Țâcu.

This production, marked by empathy, documented solidarity with the Ukrainian people and their artists, a manifesto against war, an invitation to reflect on the tragedy of our neighbouring people and to get in touch with contemporary Ukrainian dramaturgy.
Six monologues testified to a nation facing one of the greatest challenges in its history, indeed in the entire world. "On 24 February 2022, a neighbouring country killed us all. We are no longer who we were. We have died."

HAU Hebbel am Ufer, Berlin and teatru-spălătorie, Chișinău, "Symphony of Progress".
A second performance from the Rep. of Moldova by Nicoleta Esinencu, Artiom Zavadovsky, Doriana Talmazan, Kira Semionov, Nora Dorogan and Oana Cirpanu showed the negative forms of advancing technologies of control over seasonal and migrant workers in the West. This social problem has been known for many years, and the spălătorie collective tried to draw attention to these facts again in a new theatrical form, for the first time translated into sounds, noises and light through artisan equipment controlled by computer.
In this symphony of progress, there was still a lot of room for improvement in the important dramaturgy of light and sound to give the content of the play an appropriate form.

What happens to Ukrainian artists and their art in times of war?
"There is no way we can be indifferent to the war in Ukraine, and as a cultural space we can only affirm and strengthen our position through art. Together with the three guest curators, we have decided,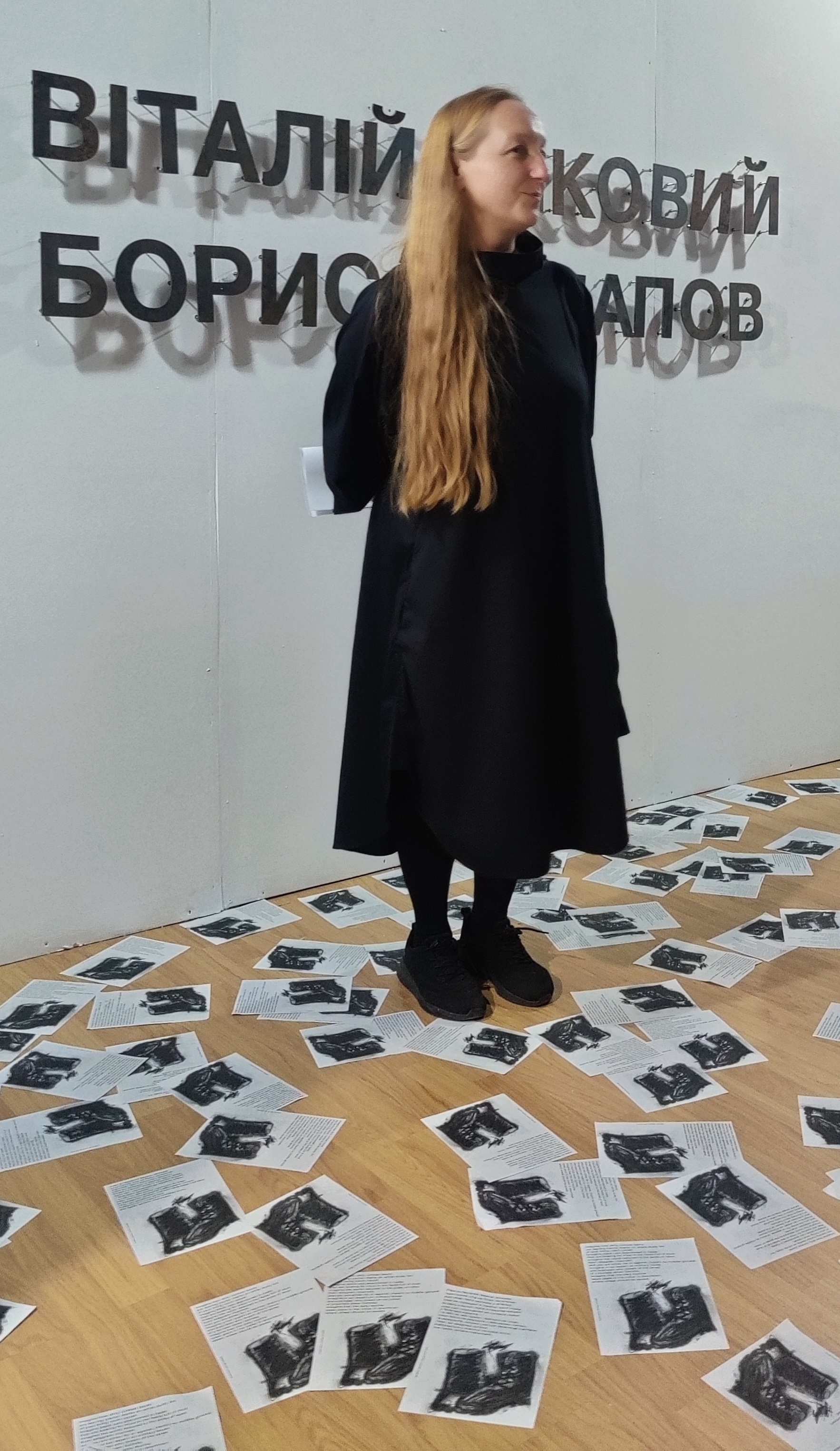 (Here.Now) to transform the moment into a manifesto created with the participation of six Ukrainian artists. The context of the (Here.Now) moment suspends the meaning of exhibiting, of the exhibition constructed according to aesthetic criteria, and presupposes the need for dialogue, communication and the transmission of a common message of the artistic community." (Suzana Dan, director of Rezidența9, which produced the project).

Some of the guest artists are still in Ukraine: director Tanya Shelepko and musician Oleksii Afanasiev are part of a contemporary theatre team that has continued its activity during the war, rehearsing in a Kiev basement.



Decolonising myself
"The current hot phase of the Russian-Ukrainian war, which began at 4 a.m. on 24 February 2022, marks a new stage of decolonisation, especially on a personal level.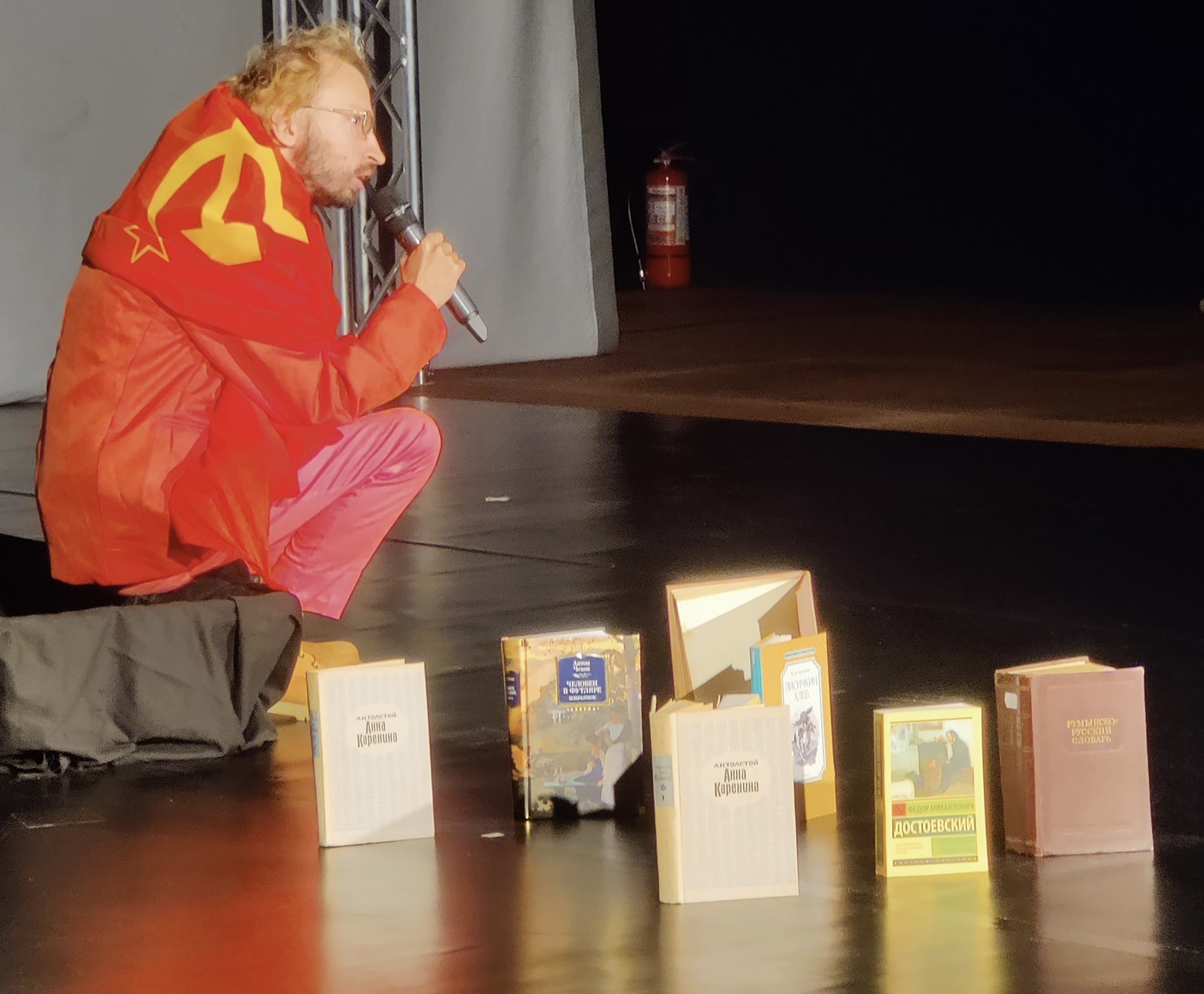 I was born in Moscow and lived there for five years until my father was murdered by paid assassins. Neither the murderers nor those who ordered the murder were ever found. Part of my family disappeared in the Gulag. No one has been punished for it. I don't even know the names of my relatives. But I want to know the names of the perpetrators. For me, the process of internal decolonisation is as important as the hope that Ukraine will win the war ... My performance is an uncomfortable public reflection on the notions of private, public, personal, political", Artur Sumarokov (Ukraine), an artist from whom the deep pain came out with every word and gesture.

Letters from the front
once again brought the horrors of war in Ukraine to an international audience. Actress and director Julia Aug had collected correspondence with friends from both Ukraine and Russia and dramaturgically transformed it into a docu-theatre as a vivid chronicle of the current state of affairs in the war zones.
One should know that this was produced at the beginning of the war in Narva, Estonia, and that Julia Aug, who is quite well-known in Russia, was immediately exposed to massive problems in Moscow and St. Petersburg. Her performances were closed down, or rather banned, the Russian citizen was put on the "black list" and had to leave the country as quickly as possible. However, I was told that her residence status in Germany is secured for the next few years.
The Estonian Vaba Laba production house and laboratory for theatre experimentation and innovation was responsible for this. Last year, the foundation came up with the "1st Festival of Freedom" in Narva, the easternmost point of the EU, and offered a platform to small theatres, especially from countries with serious problems in terms of freedom of expression and where theatre-makers have been subjected to censorship that has restricted creative activity in recent years. This is not only the problem in Eastern countries, but also in Europe, where censorship is increasingly affecting free creation.

Luggage Stories
The production company KatlZ from Riga presented a story about life and people. The fact that there are different twists and turns in life, funny, joyful, sad and tragic. After every war, life goes on.

Another virus was pushed off the news forefront by the war, yet remains a constant companion.
"Virus Diary", conceived and developed by Dan Perjovschi, emerged as a form of adaptation to the limitations imposed by the pandemic. Perjovschi invited other artists to participate in order to bring them and the public out of their torpor. Artists from Romania, Spain, Germany, the USA, the UK, Austria, Italy, Portugal, Greece, the Czech Republic, Bulgaria, Uruguay, Indonesia, Colombia, France, Malaysia, China, Japan, Poland, Moldova, Hungary and Montenegro participated in the project.
Originally, Virus Diary was published online (on Facebook and Instagram) by the White Cuib gallery, as a kind of work-in-progress. Later, the exhibition was shown on real walls, most recently at the Piatra Neamt Art Museum as part of the festival.

Elise Wilk's story "Disappearance" also dealt more broadly with the consequences of war, loss of home, emigration, in a very typically Romanian-German way.
This production of the "Andrei Mureșanu" Theatre, Sfântu Gheorghe, told in three episodes from the history of the Transylvanian Saxons. Disappearance here meant the dissolution of a society, as it were. The focus was on three women from three generations of one family. 1945 and deportation to Russia, flight from the Ceaușescu dictatorship in 1989, shattered dreams of a rich Germany even when Romania joined the EU around 2007.
Alternating between narrative and scenic elements, director Cristian Ban had dramaturgically embedded the trauma of the society of the Transylvanian Saxons on the basis of three protagonists - as the author sees them very personally - in an awareness between frustration and desire, with wonderful comedic aspects and free of pathos, in order to find inner resources to overcome the tragedy of history.


Other remarkable productions from Romania 


Linotip - Independent Choreographic Centre, Bucharest,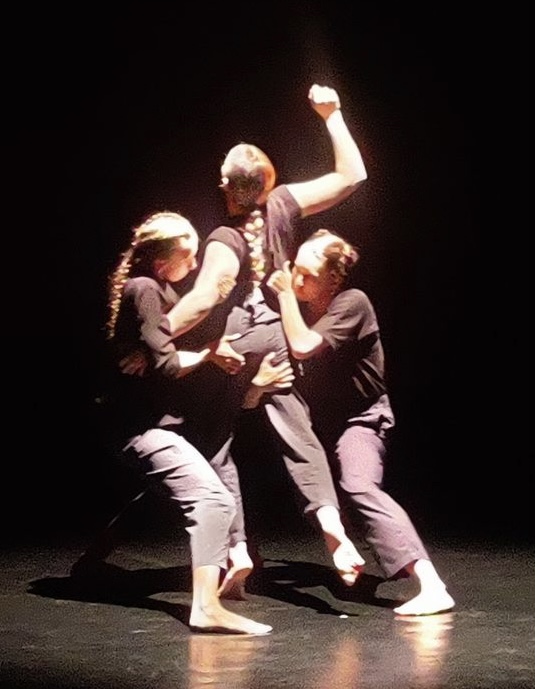 was represented with "People, Bodies, Images". The production raised questions about the way we relate to the body in art, fashion, mass media, education and family.

The concept was developed from choreographer Ioana Marchidan's personal experiences during her training at ballet school, relating to the effects of body-shaming (harassment based on appearance) in society. The production was inspired by the narratives of those who wanted to share their experiences during the research phase. On the basis of these personal accounts, Mihaela Michailov had written fitting texts that complemented Ioana Marchidan's choreographic discourse and were interpreted with impressive skill by the dancers Teodora Velescu, Mariana Gavriciuc, Simona Dabija.



National Theatre Târgu Mureș - "Liviu Rebreanu" Company, The Return
What they never dared to say abruptly burst out of two couples after an acquaintance announced his return after a 10-year absence. Years of coexistence and the routine of everyday interaction were suddenly called into question, triggering eruptive physical and psychological discharges of everything that had long been buried deep inside. What had to be said was said, with all the ensuing consequences for everyone's future.
The visitor cancelled and the predictable happened. All at once everything imploded and everyday normality had taken its place again in the lives of the two couples. The invasive past had given way to the future.
Adi Iclenzan succeeded in credibly staging Laurențiu Blaga's finely knit dramaturgy with four adequate actors (Andi Gherghe, Ștefan Mura, Georgiana Ghergu, Ale Țifrea). A well-rounded performance.
 

Reactor de Creație și Experiment, Cluj-Napoca, PART 1: LOVE
With collective lyrics and the lively young cast of Andrada Balea, Cătălin Filip, Alina Mișoc, Adonis Tanța, Octavian Voina, the show made "Part1:Love" a festival evening worth seeing and entertaining on a good level with a look not only deep into the Romanian soul.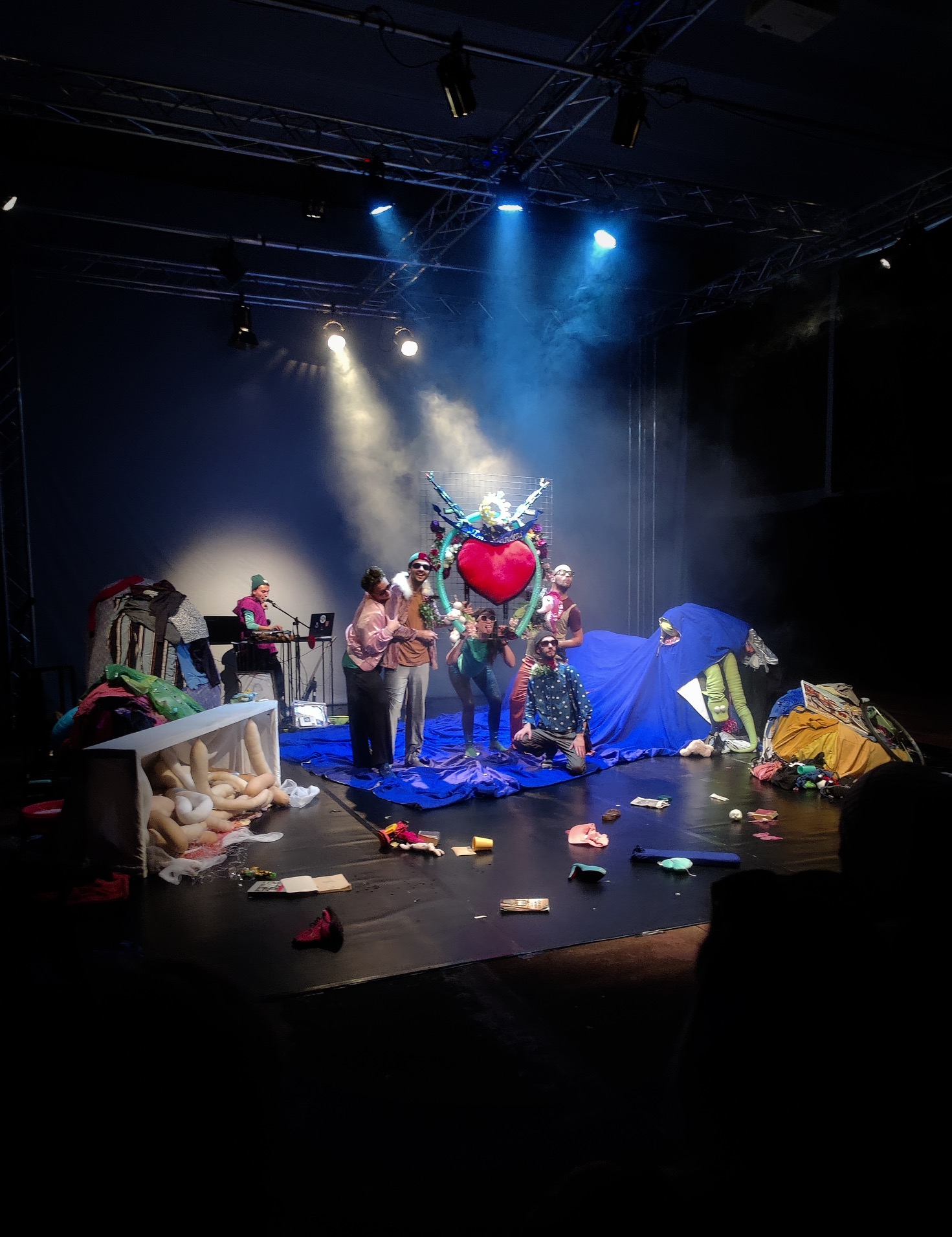 From love in its many forms to the emotional baggage we have been carrying around since our earliest youth, there was almost everything and hardly a cliché was left out. Fortunately, there was plenty of self-irony. Damn it, did these young actors experience me 50 years ago, or did they manage to touch us all somewhere deep in our past with their collage? They succeeded skilfully, with a good ensemble performance and, moreover, with some remarkable individual performances. All this made mistakes in dramaturgy (Cosmin Stănilă, Petro Ionescu) and direction (Petro Ionescu) with Alexandru Condurat's music in Alexandra Budianu's colourful set easy to overlook. An evening that left you wanting more.

"Get out of my sun",
by Alexa Băcanu, another piece by the troupe, wild, cheeky and fresh, dealt largely with the group itself. Wonderfully acted and sung by these talented young performers, it could have done with a little more opening into the universal, and a look outside the box would have given the piece more meaning.


DISCO '89: THE 7 DEATHS OF MIHAELA RUNCEANU, produced by Teatrul Apollo 111, an independent performing arts venue in Bucharest.
Catinca Drăgănescu (director) offered a kind of docu-drama in the last days of the life of the famous singer Mihaela Runceanu. Her tragic end is shrouded in mystery and conspiracy theories. Runceanu's hits (perfectly sung by Oana Pușcatu) underlined the production as a space of freedom for the artist in the worst period of Romanian communist society.

Ada Milea - The Storm
Great entertainment value was demonstrated by Ada Milea, the idiosyncratic Romanian star in terms of music and theatrical performance. She could not be missing from the festival. Her musical interpretation of Shakespeare's "The Tempest" took us to an island overflowing with sounds and noises, into a dream in which logic was suspended by exuberant fantasy.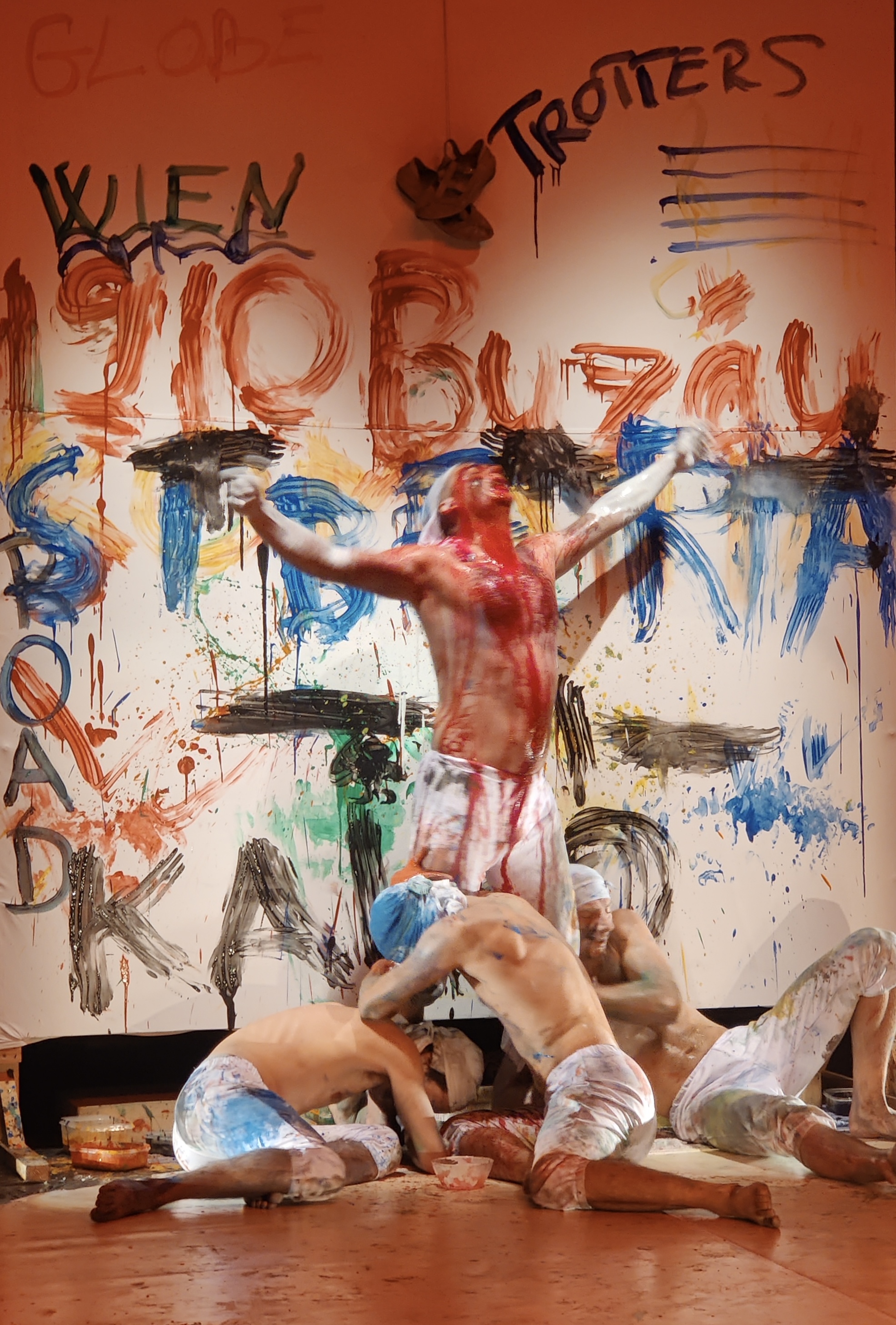 After the end of the excellent, international, but politically unwanted underground festival, the city of Arad disappeared into insignificance in terms of theatre for almost a decade. It was only recently that various performances attracted attention again. 
The fact that the ethnic Hungarian-Romanian dichotomy was finally left out of the equation for once, and that, on the contrary, cultural togetherness was the spirit of the event, played a special cultural-political role with exemplary character.

One of them was certainly "497", a theatre-dance production from Arad about a famous event of the early twentieth century. Four Romanians had won the competition offered by the Touring Club de France with a prize money of 100,000 francs for a world tour on foot.
This began in 1910 and lasted ten years. During this time they wore Romanian folk costumes, entertained themselves with folk dances and wore 497 pairs of opinci (traditional peasant shoes). Only one of them finished, but even he had little joy in the prize, as its value had been wiped out by inflation in the meantime.
Four dancers, each from a Romanian and Hungarian ensemble, Harmati Patrik, László Richárd, Móricz Bence and Varga József delivered a hitherto unknown variation of Romanian folk dance, choreographed by Farkas Tamás. A modern "folk dance story ballet" drew the arduous path of the four protagonists in an idiosyncratic way. Echoes of contemporary theatre developed in each case on the basis of recurring folk dance sequences, which (musically well accompanied by Gera Gábor) adapted to the countries of the journey, folklore on high-quality movement sequences, a hitherto unseen spectacle, a mixture of virile power and sensitive content.

The hosts, Theatre of Youth, performed meaningful pieces ...

BABEL 11:4 or IT ALL BEGAN - 16 people in the same space, a successful set (Sabina Veșteman), supporting lighting design (Costi Baciu) and video installations (Tiberiu Enache) and live video montages (Alexandru Oancea) adding to the confusion.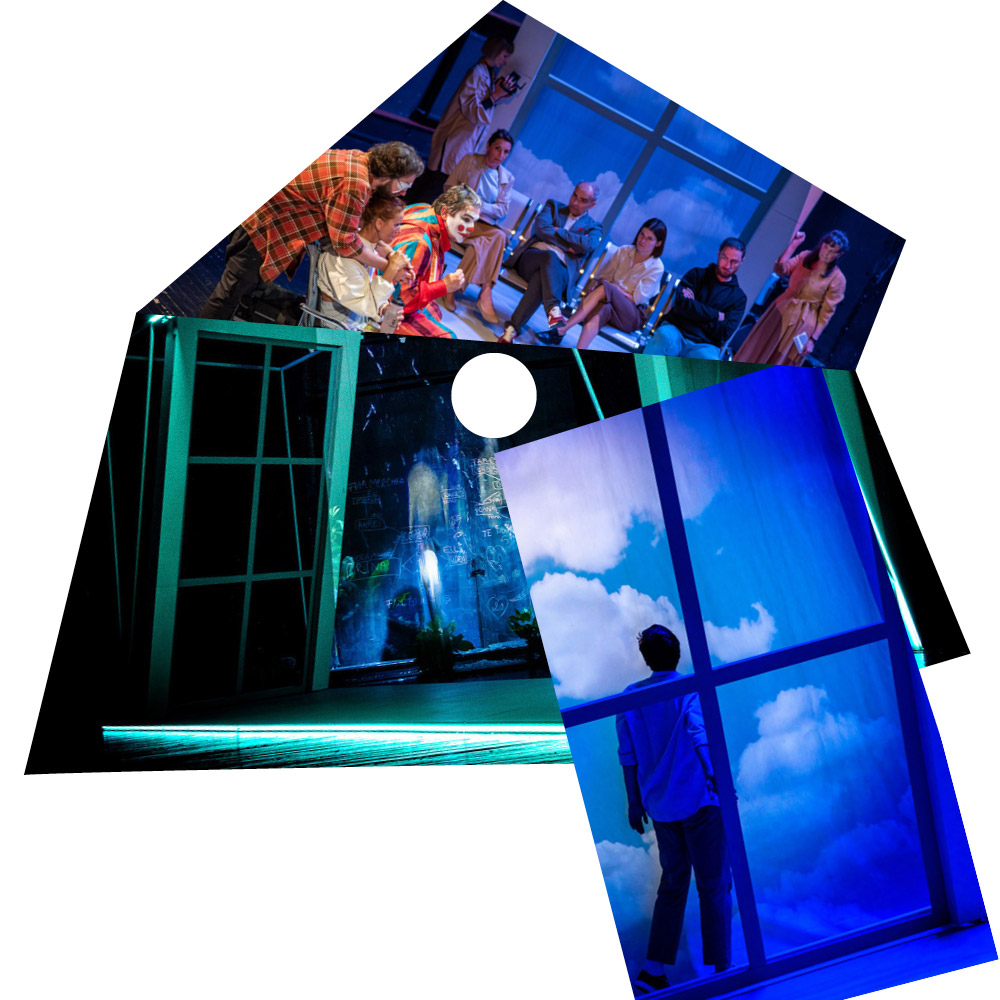 So many people, so many truths. Wrong. Each meeting multiplied the perspectives on truth ad infinitum, was there still a single truth in this case? 

"In a world where conflict is no longer simple but hybrid, in a hybrid world of hybrid truths, hybrid art, hybrid suffering, hybrid revolts and hybrid wars, the human brain is the new territory to conquer."

With playful dedication, the theatre's troupe managed to skillfully convey the stories with hybrid ways of looking at things and hybrid truths in two hours. At the beginning, the world seemed to be in order in the foyer, it sounded lovely, and it also sounded lovely again at the end. Was this also just a distraction from the truth in the waiting area? Many a visitor lost the thread, because here it was not about form of content and its presentation. I felt that the script by Enoch Darli and the direction by Daniel Chirilă was only about the fact of multiple facts ...


MYTH SHOW: A Story of Mistrust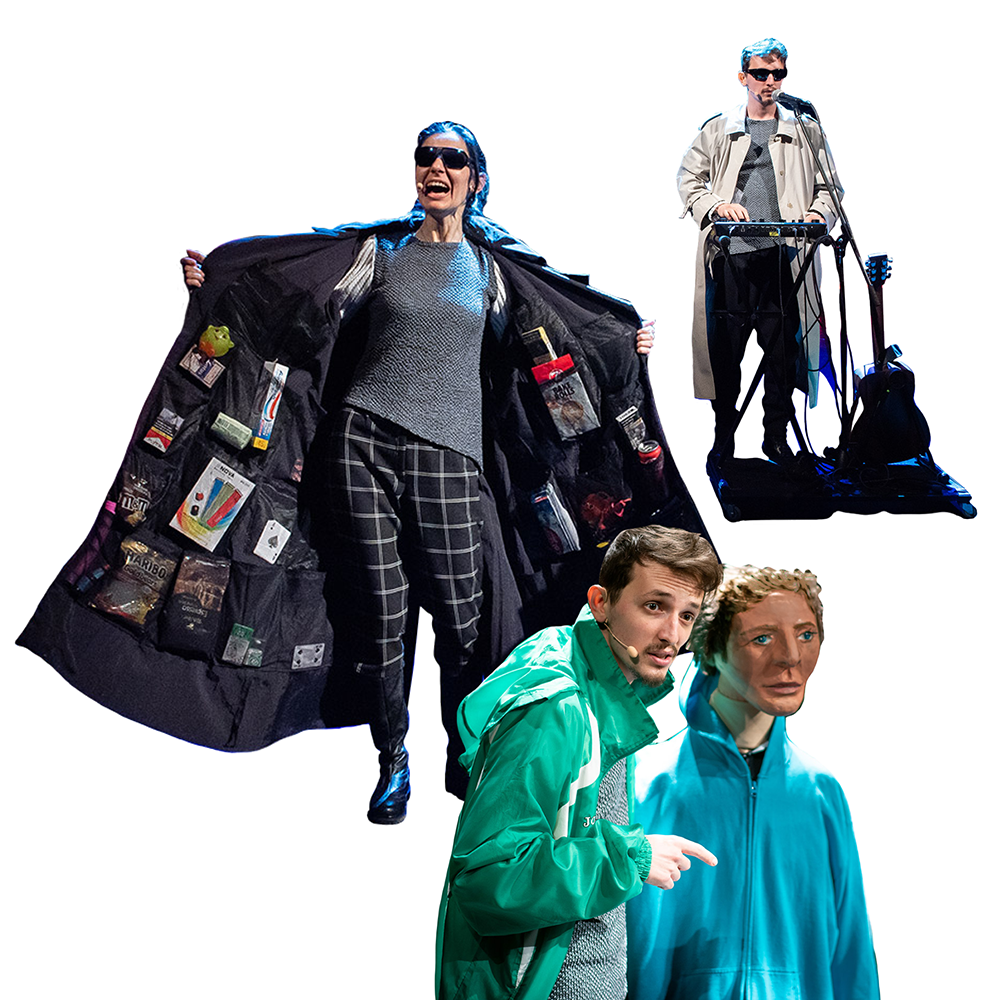 David Schwartz staged the semi-musical final chord of the festival based on a text by Daniel Chirilă. Loredana Grigoriu and Paul-Ovidiu Cosovanu led the way through this myth show as play directors, with the audience (seemingly) able to determine content and sequences. "After all, we live in an information age where everyone can choose their own way of dealing with history, and that often leads to social resistance."

The show of mistrust explored the ways in which members of a community relate to important episodes in recent history, from contemporaries of the 1907 peasant uprising, to former workers of the Săvinești industrial platform who felt the full brunt of the post-communist transition, to the 2020 pandemic, vaccinations, and students and teachers who had recent experiences with online schooling.


Back